Rental Cottages
Our guests love our cottages nested in the pristine Alaskan mountains. Come stay in our one-of-a-kind cottages.
Book Online
Vacation Packages
3 Queen Beds | Sleeps 7
2 Story
Full Kitchen
Private bathroom with shower
Washing Machine & Dryer
More…
3 Queen Beds | Sleeps 7
2 Story
Full Kitchen
Private bathroom with shower
Washing Machine & Dryer
More…
2 Queen Beds | Sleeps 4
1 Story
Full Kitchen
Private bathroom with shower
24 hr. Laundry Facility on site
More…
Experience Alaska
Nestled amidst the majestic peaks of the Talkeetna and Chugach Mountains, Palmer, Alaska, serves as an idyllic getaway for those seeking a blend of adventure and tranquility. Vacation cabin rentals in this picturesque town offer an intimate experience of Alaska's pristine wilderness.
Staying in a cabin in Palmer is like stepping into a serene world where nature's beauty unfolds at your doorstep. Whether it's the ethereal glow of the midnight sun during summer or the mesmerizing dance of the Northern Lights in winter, Palmer promises a visual treat for its visitors. These cabins often combine rustic charm with modern amenities, ensuring that guests experience the wild without compromising on comfort.
The strategic location of Palmer also makes it a hub for various outdoor activities. From hiking and fishing in the warmer months to snowshoeing and dog sledding in the winter, there's always an adventure waiting. Moreover, these cabins provide a secluded retreat after a day's excursion, where one can cozy up by the fireplace or relax on a deck with panoramic mountain views.
Palmer's vacation cabin rentals encapsulate the essence of Alaskan living, offering a unique and unforgettable experience for all who visit.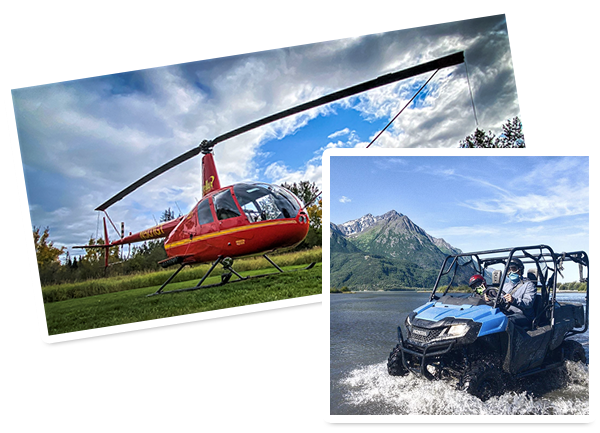 Save with Vacation Packages
Come enjoy world class helicopter rides to the top of the glaciers, off-roading in ATVs or the best snowmobiling in Alaska. Connect with us to learn more on bundling to save with your reservations.
Highly recommend!
Beautiful and completely brand new cottage. The host goes above and beyond to make it a comfy and memorable stay. The mountain views are breathtaking. Highly recommend!
– Jessica – New Jersey
Fantastic!
What a great place! Everything you need and very well designed. Great amount of counter space 👌. The views out the front window and deck are fantastic.
– Mike H.